THANK YOU NOTES
2019 stand downs
Well, we have another year of Stand Downs in the books.  We achieved our goal of serving 300 Homeless Hero's. We want to thank you and all you rassociates for your continued support. Your contributions help make the lives of these Homeless Hero's a bit better, in countless ways. We as an organization, we couldn't do what we do without the support of people and contributors such as yourselves. I have attached 3 pictures. Each one is from a different Stand Down and show our set-up at the event. As the Homeless Hero's circulate through the building, they stop at the various vendors and pick up what they need.  Our beautiful bags contained 3 pair of gloves, a new stocking hat, a pair of new socks, 1 can of soup, a bag of chips. a hygiene kit, a P38 can opener, a new polo style T-shirt, and a small flash light.  Something for every one. With the holidays under way, we here at Task Force Omega-Indiana 1 want to wish you a Merry Christmas and a Happy New Year.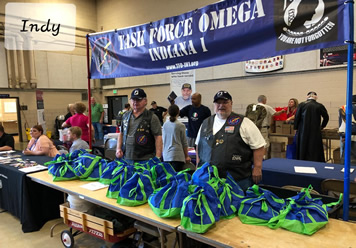 Dear Warmth for Warriors,
We really appreciate the hand-knit stockings with soaps and candy inside! It is tough being away from home during the Holidays but your gifts help make it easier. Thanks for all you do and your support. Happy Holidays!
From,
The aviation detachment on USS Montgomery
CLICK below for more thank you notes